Carnival Sunshine
Entertainment

Bars, Clubs & Lounges

Casino & Gambling

Spa

Sports & Fitness

Shops

Leisure

Enrichment

Kids & Families

Camp Carnival

Circle "C"

Club O2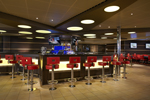 Lounges & Bars
Intimate Lounge
The Library Bar
RedFrog Pub
Alchemy Bar
Pool Bar
BlueIguana Tequila Bar
RedFrog Rum Bar
Pool Bar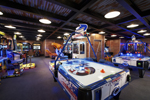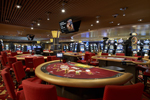 Casino
Over 180 slot machines
18 Gaming tables: Blackjack, Caribbean Draw Poker, 3 Card Poker, Let it Ride, Roulette, Craps and Texas Hold'em
Tournaments: Blackjack and Slots
Card and games lessons can vary by itinerary
Currencies accepted: U.S. Currency and Sail & Sign® accounts
Casino hours may vary due to cruise itinerary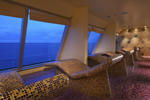 Cloud 9 Spa
Thalassotherapy Pool
2 Saunas (men/women)
2 Steam Rooms (men/women)
15 massage treatment rooms
2 locker rooms (men/women)
V.I.P Couples Suites (Treatment Rooms) with whirlpools
Thermal Suite: Dry Heat Chambers
Thermal Suite: Steam Chambers (Oriental and Aroma Steam baths)
Rasul Bath: special treatments including mud bath
Floatation Therapy
Wide variety of body treatments
Cloud 9 Salon
Hairdressing for men and women
Nail services
Additional charge for spa treatments and salon services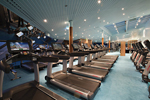 Fitness
Fitness Center features state-of-the-art equipment
Exercise Classes: Various classes including aerobics, Yoga, Pilates, Resistance training, spinning, and more. Exercise programs vary by ship itinerary (additional fee for some classes)
Outdoor Jogging Track
Personal Training (additional fee)
Outdoor weightlifting area in the SportsSquare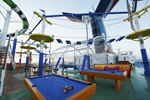 Sports
SportSquare - packed with fitness fun from table games to a ropes course.
9-hole miniature golf course
Lighted half court for basketball and volleyball
Sports Track: outdoor jogging path
Ping Pong Tables (2)
Foosball tables
SkyCourse: ropes course that's 150 feet up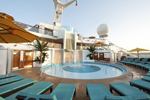 Pools
Carnival WaterWorks - 6 different slides including Drain Pipe, Speedway Splash 235-foot dual racing slides, 500-gallon "dump bucket," and more
Beach Pool and whirlpools
Serenity Adult-Only Retreat - Spanning 3 decks, complete with pool, bar, whirlpool and cascading waterfall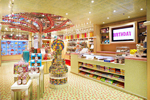 The Fun Shops
Logo clothing, souvenirs, clothing, jewelry, perfume, liquor and sundries
Gallery on the Way: photo gallery and fun ship films video services
Art Gallery
Cherry on Top - fanciful fun gifts and novelties, bins of bulk candy, custom apparel and more.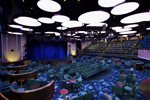 Shows
Liquid Lounge
Carnival Seaside Theater
Playlist Productions
The Punchliner Comedy Club presented by George Lopez
BroadwayMusicals
Vocalist Shows
Dance Shows
Parties and Theme Nights
Captain's Celebration - "Meet and Greet" and "Fun Farewell"
Late Night Deck Party
Deck parties are cruise specific on destination and itinerary
Past Guest Reception: offered on cruises 5 days or longer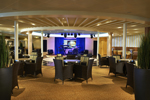 Music and Dance
Dance Classes
Karaoke
Live Bands
DJs
Live acoustic guitar
Contests & Tournaments
Bridge and Card games
Bingo
Trivia Games
Scavenger Hunt
Lido Deck and Pool Games
Couples and Lovers Game
Battle of the Sexes
Hasbro - The Game Show
Superstar Live Karaoke
Games vary at the discretion of the cruise director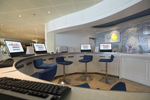 Other Features
Art Auctions
Shore excursions briefings
"Fun" Hub Stations - featuring dozens of flat-panel stations to keep up with Sunshine happenings or stay in touch with friends and family back home. Ship-specific portal free to use - surfing the Internet available for a fee
Port preview lectures
Laser Tag: $5 per guest for 5 minute game (price subject to change)
Golf Lessons
Health and Wellness instructors
Family Activities
What is a vacation without a little family game time? Carnival wants to promote fun-filled vacations for the whole family by offering a selection of family activities.
Family Welcome Aboard Parties
Ice Cream Eating Contests
Kids Talent Show
Family Scavenger Hunt
Family Arts and Crafts
Family Name that Tune
Family Karaoke
Cookie Decorating
Teddy Bear Workshop
Family Water Wars
Seuss @ Sea and Seussa-Palooza - timeless stories of Dr. Seuss come to life with special onboard character parade, interactive story time, and arts & crafts activities.
Green Eggs & Ham Breakfast - This breakfast is part meal and part journey into the whimsical world of Dr. Seuss - fun for the whole family! (Extra fee of $5 per adult or child - subject to change)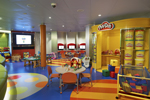 Camp Carnival is a year-round program that includes a wide range of fun activities designed for three different age groups - Toddlers (Ages 2 to 5), Juniors (Ages 6 to 8) and Intermediates (Ages 9 to 11). All are supervised by staff that's either college educated in a related field or have professional child-care experience.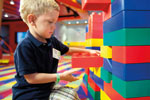 Toddlers (Ages 2 to 5)
Sing-a-longs
Play dough sculptures H2O Ocean Activity
Picture Bingo
Story Time
Kid's Talent Show
Face Painting
ExerSeas Indoor Ball Games, Parachute Games, Kids Aerobics
PS2's, Gameboys
Slide Equipment
Night of Fun Parties (additional fee)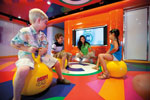 Juniors (Ages 6 to 8)
PlayStation 2 and Gameboys
Spin Art, Sand Art and Candy Art
Face painting - during themed activities
Kids Talent Show
ExerSeas - Ball Games, Mini Olympics, Water Balloon Games
Edu-Cruise Activities - feature rockets, turtles and Knight's Night
H2O Activities - make your own Ice Cream, Goop and Cosmic Catch
Karaoke
Drawing, water colors
The Mini Late Night Party (additional fee)
Intermediate (Ages 9 to 11)
Kids Disco
DVD Bingo
PlayStation 2 and Gameboys
Music Jeopardy
Water Color Activities
Pizza Pig-Out: make your own pizzas
ExerSeas - feature basketball, water balloon and volleyball
Swimming under the stars
T-shirt decorating
Late Night Party (additional fee)
Camp Carnival Night Owls
Camp Carnival offers babysitting services for children 6 months to 11 years each evening from 10 PM to 3 AM for an additional fee. This service offers a "slumber party" atmosphere for your children with movie time, cartoons and room service snacks.
Each evening 10 PM to 3 AM
$6 per hour for the 1st child of a family (pricing subject to change)
$4 per hour for each additional child in same immediate family (pricing subject to change)
Babysitting is done in the children's playroom.
Please Note: Carnival doesn't offer any in-cabin babysitting services.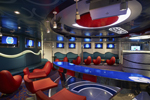 Circle "C" is the ultimate young teen program for kids ages 12 to 14 years of age. The facility features a dance floor with high-tech sound and lighting system, the latest in video gaming, and 42-inch plasma TV's that display movies and music videos. The Circle "C" program also offers a full schedule of activities and a chance for kids to meet up with people their own age in an inviting and vibrant lounge. A list of some of the activities offered follows:
Talent Show
Video gaming consoles
Dance Parties
Late Night Teen Hang
Late Night Movies
Video game tournaments
Scavenger Hunts
Karaoke
Sporting Activities - including dodge-ball, basketball, mini-golf
Carnival Twister Waterslide Races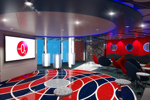 This unique club designed and dedicated for teens ages 15 to 17 years old, features its own teen director and special teen activities. The lounge offers a place for teens to hang out, meet new friends, listen to music, play video games or just chill out away from the parents. No kids or adults are allowed. Club O2 is a non-smoking and a non-alcohol lounge. A list of some of the activities offered follows:
Music World
Amazing Gaming
Lounge Life
Scavenger Hunts
Pool Functions
Sporting Events - volleyball, basketball, ping pong and more
Video Game Tournaments
Theme Parties: Hip-Hop night, Punk Rocker Night
Carnival Sunshine Cruises